Online and printable coloring pages for kids (free).

https://www.online-coloring.com/
Online-Coloring.com is a website aimed at the little ones, which provides more than 600 free drawings that can be printed or colored online. The site is very simple to use: click on the image, select a color in the palette and start filling in the areas of the picture.
By drawing and coloring through a multimedia application, your children will have a fun and easy way to learn how to use computing devices and how to apply and mix colors. Not only is it a great entertainment for your kids, it will also help them relax.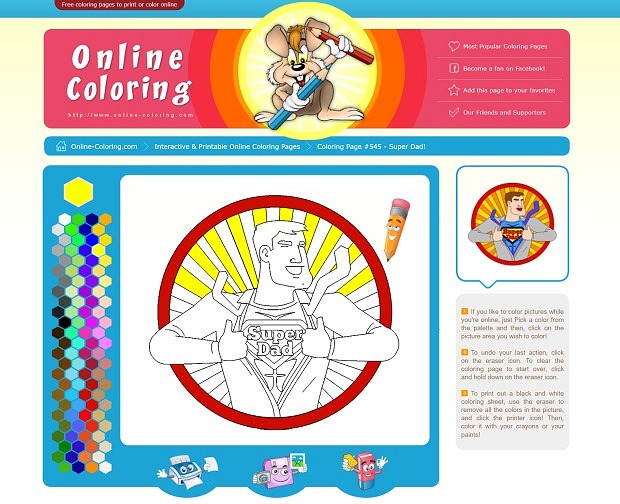 The content of the website is categorized: kitchen, animals, monsters… Your kid can freely choose the theme and the drawing in black and white that he wishes to color according to his desires, his mood and his age.
A full-color model is shown on each coloring page to help your kids. Of course, they can ignore it and make a complete creation using the colors of their choices. The palette offers a large number of colors so that the little kids can have fun while developing their creativity. And with the eraser, they can even delete all or part of their work.
Those who like coloring books can also print them out, and then paint or color them with felt-tip pens, colored pencils, marker pens and so on… Enough to keep your children busy for hours through a stimulating and creative manual activity!
Example of available topics:
- Pirates and corsairs: your boy or girl has a passion for adventure and pirate stories? Take them inside the world of pirates through the beautiful coloring pages of this topic. This collection includes characters, treasures, maps and of course ships flying black flags with skull and crossbones. Your kid will have fun coloring these drawings with the colors of their choice and come up with their own pirate stories.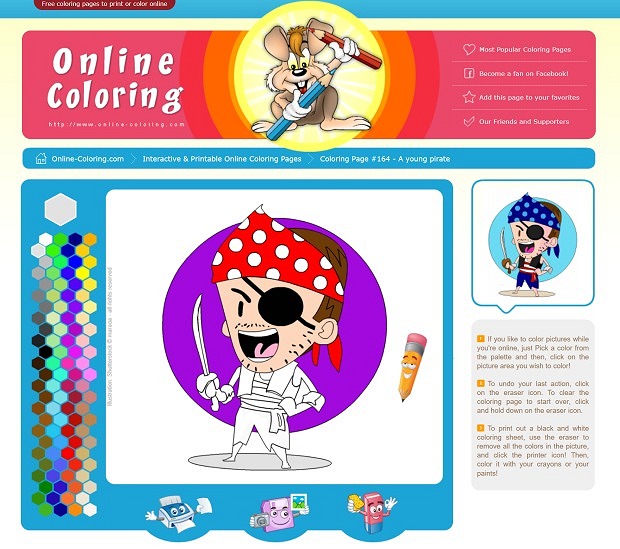 - Christmas-themed coloring pages: experience the magic of the holiday season in advance with your family. This collection of course features Santa (with or without his sled), but also many other great drawings: beautiful Christmas trees, snowmen, little elves, funny reindeers, Christmas decorations and so on. It has everything associated with the children's (and the adults') favorite holiday. Get ready to use your felt-tip pens and your colored pencils!