With no download or registration to play, beginners and enthusiasts alike can jump straight into this game of patience. The full-screen option adds to the colourful gaming experience and a "
how to play
" section ensures that everybody can enjoy this
classic solitaire game
.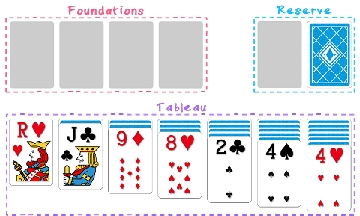 The initial layout consists of three parts: the tableau with 28 cards, the reserve with the remaining 24 cards and the foundations comprising of four free cells. The aim of the game is to fill the foundations by following ascending suit sequences from ace to king. At the beginning of the game, the cards are randomly dealt, giving a win rate of approximately one in three games. Hours of fun can be had, whether on mobile or tablet, trying to win this game of luck.